The Leading Dumpster Rental Athens GA
Circle A Dumpsters is the go-to dumpster rental Athens GA for all Madison County residents and business owners. We are a family-owned and operated business and we are dedicated to making our communities a better, more beautiful place. Our goal is to make your life easier by being available when you need us and offering outstanding customer service. People choose us for their dumpster rental Athens GA needs because they know we're reliable, trustworthy, and helpful.

We proudly serve Athens, Georgia, and surrounding areas with our services and do our part to keep our communities waste-free. We're passionate about what we do because we understand how stressful it can be to complete projects in a timely and affordable manner, which is why we're here to help. As small business owners who have years of experience in the construction industry, we want to use our knowledge and resources to help you get the job done right the first time.

Scheduling a dumpster rental Athens GA has never been easier than with Circle A Dumpsters. With easy online booking and instant quotes, you can schedule your Athens GA dumpster rental in no time. We offer competitive pricing and simple drop-off and pick-up procedures. Renting an Athens garbage dumpster shouldn't be difficult, and here at Circle A Dumpsters, we aim to give you a great rental experience. Reserve your bin today by giving us a call at (706) 548-3982 or use our convenient online booking tool.
Various Uses for Dumpster Rental Athens
It's amazing how often a dumpster rental Athens can come in handy for residential, commercial, or construction projects! Whether you're finally attending to the clutter in the garage, remodeling a rental home, or lining up dependable waste management services for your business, our selection of containers can seamlessly support whatever endeavor you're beginning.

When you work with us, you can rest assured your waste is being removed in a legal, safe, and environmentally friendly manner. We partner directly with the Madison County C&D Landfill to ensure all waste is disposed of in accordance with city, county, and state regulations.

We have a rich history in the construction and demolition industries, so we understand the importance of working with a dumpster rental Athens, GA company you can trust for all of your personal and professional waste management needs. Whether you're in the early stages of project planning or need a dumpster rental Athens today, we're to help. Use our easy online booking system to reserve your container today!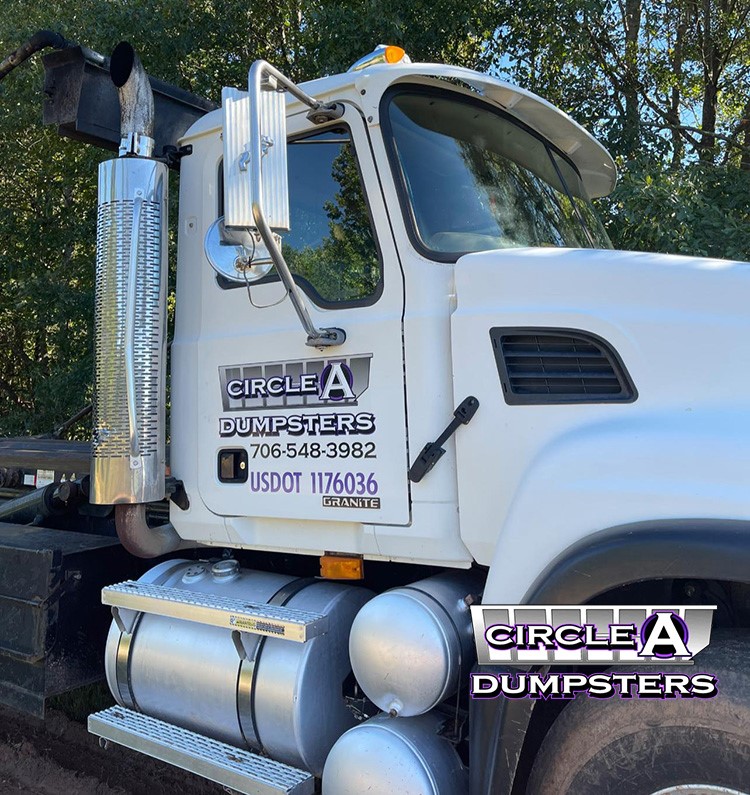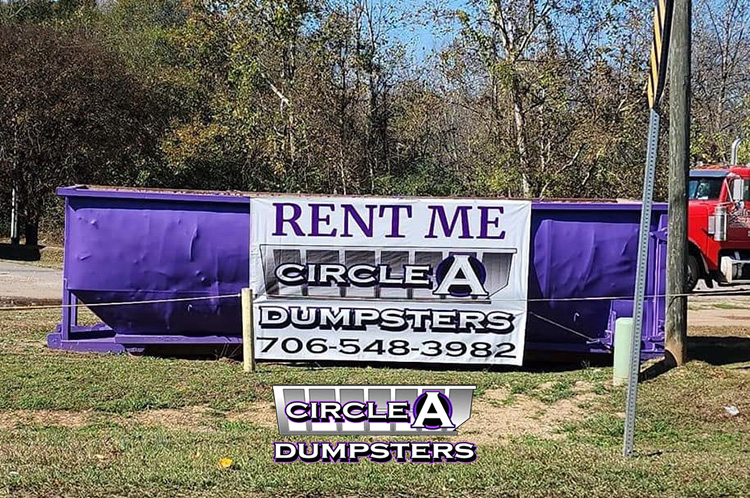 Find Your Residential Dumpster Rental Athens
Madison County residents trust Circle A Dumpsters with all of their residential dumpster rental Athens needs because we're the reliable, reasonable choice. Our various sizes and types of containers will make those household projects a piece of cake. Clean out the garage or attic with ease, work on that bathroom remodeling project on your own time, or plan for an estate sale with our convenient, straightforward process.

We carry a specific type of small dumpster rental Athens GA to make your project more affordable and easy. We even offer a 30-yard household-only dumpster specific to residential dumpster rental Athens projects. If you're wondering which residential dumpster rental Athens would be right for your next project, we can help! Our job is to be the professionals you can count on. Give us a call or book online today to start your dumpster rental Athens Georgia process!
Athens GA Dumpster Rental for Yard Waste
Cleaning up and clearing out the yard can feel like an impossible task, but with our Athens GA dumpster rental options, your yard will be in tip-top shape in no time at all. Whether you're re-designing your landscaping, planting a garden, or cleaning up after a storm; booking one of our container options for yard waste is a convenient and affordable option that will take some of the hassles out of larger yard projects.

We have a few Athens Ga dumpster rental selections designed specifically for yard work, like our 30 yard dumpster for tree and brush only or our 30 yard dumpster for dirt only. Both of these are great options for getting the work done quickly and efficiently for your specific yard work needs. If you have any questions about whether a 20 or 30 yard dumpster would be a better fit for your project, get in touch with our team today at (706) 548-3982.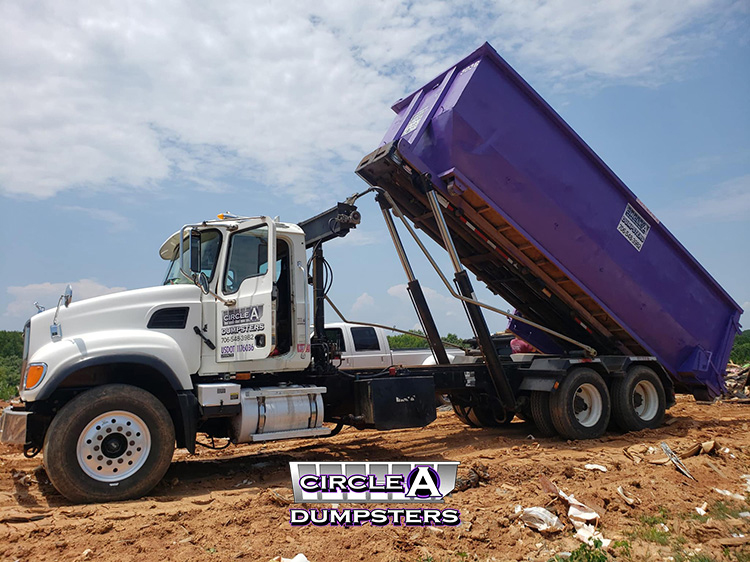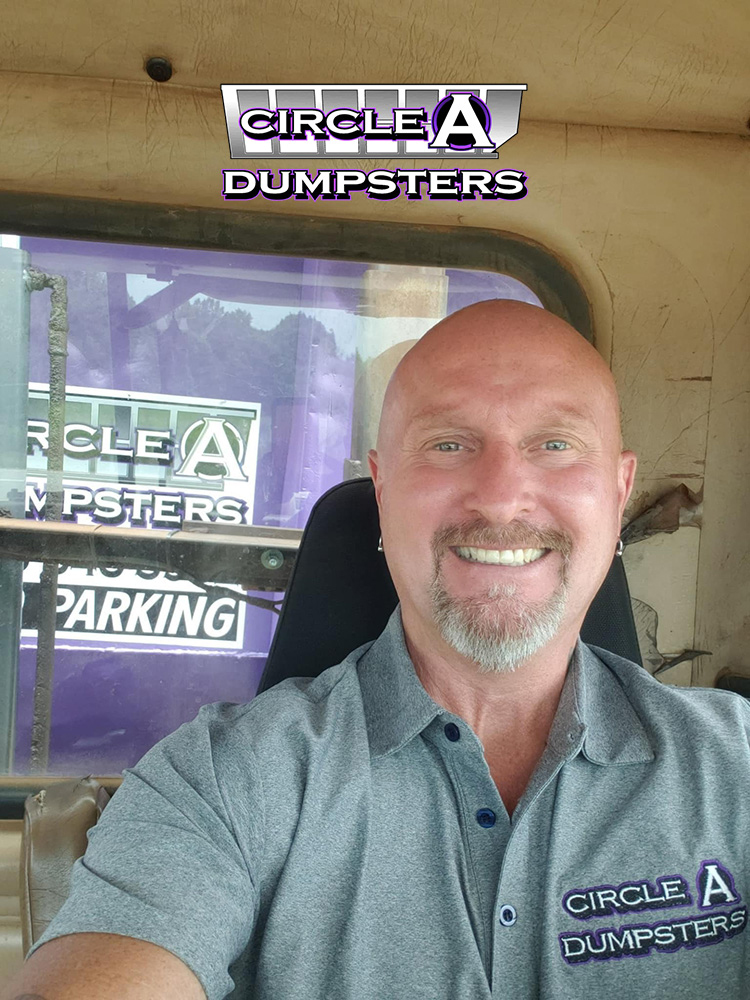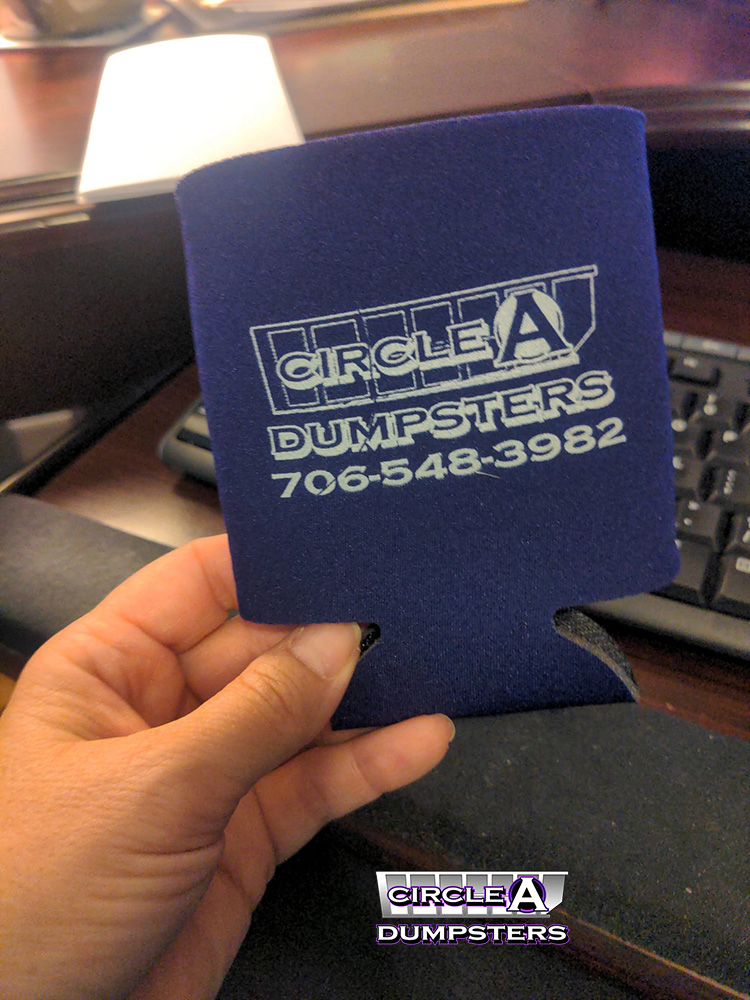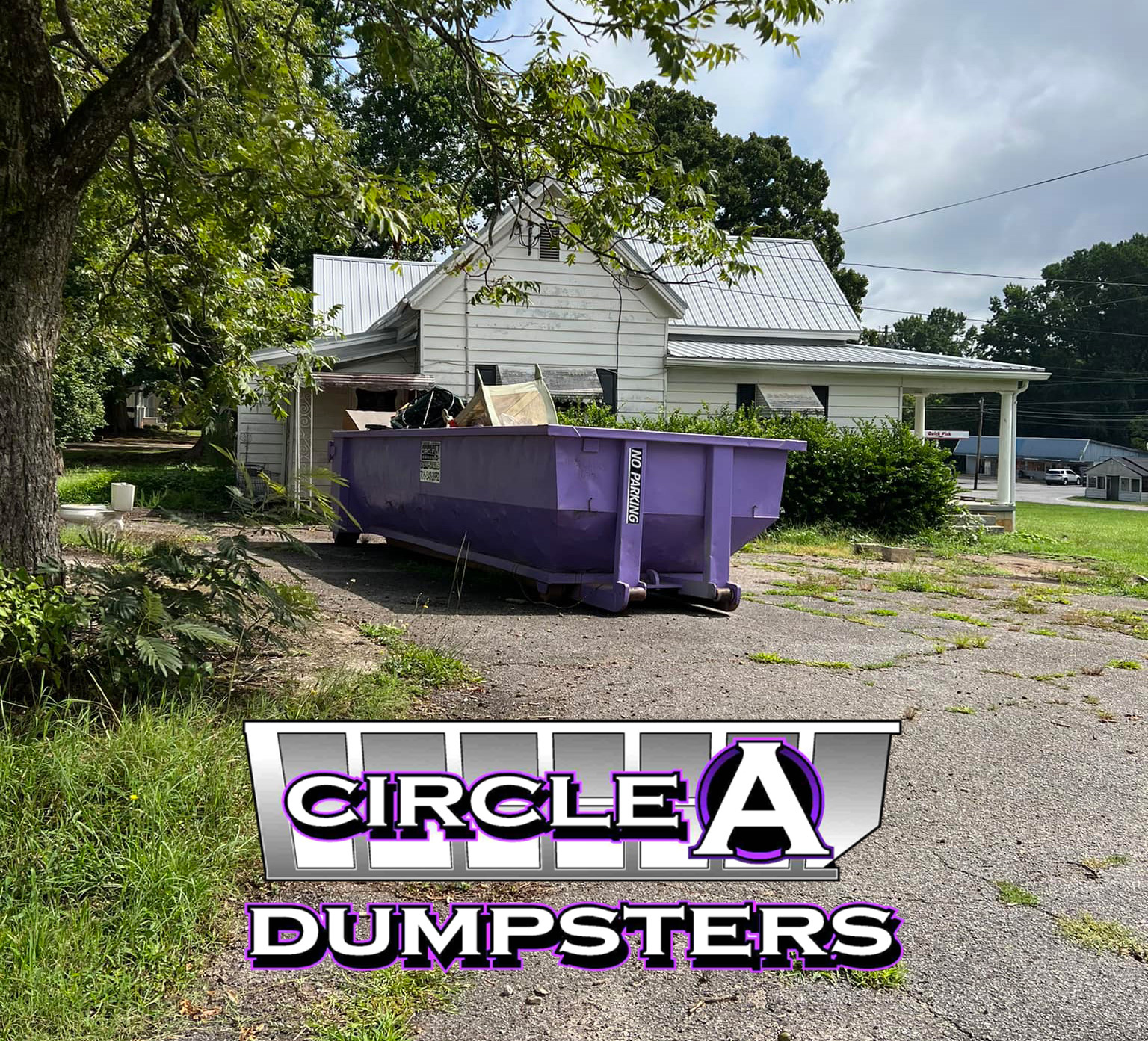 Athens Construction Dumpster Rental
Construction projects can be chaotic, which is why you need high-quality Athens construction dumpster rental options you can count on. Circle A Dumpsters is the #1 source for all of your construction dumpster rental Athens projects because of our range of sizes and price points. With decades of experience in the construction industry, we understand how crucial it is to partner with an Athens GA dumpster company you can depend on. With Circle A Dumpsters, you're not just renting a dumpster. You're securing a team of professionals who know the ins and outs of the construction field and want to help your project succeed.

Our Athens construction dumpster rental options are set up specifically for construction and demolition work. When renting a concrete only or dirt only dumpster, you don't have to pay the extra fees for the other items you aren't using. Our 30 yard dumpsters are large enough to dispose of all the waste from any construction project. Find out more about why construction sites choose us as their preferred construction dumpster Athens GA provider by browsing our website or giving us a call at (706) 548-3982.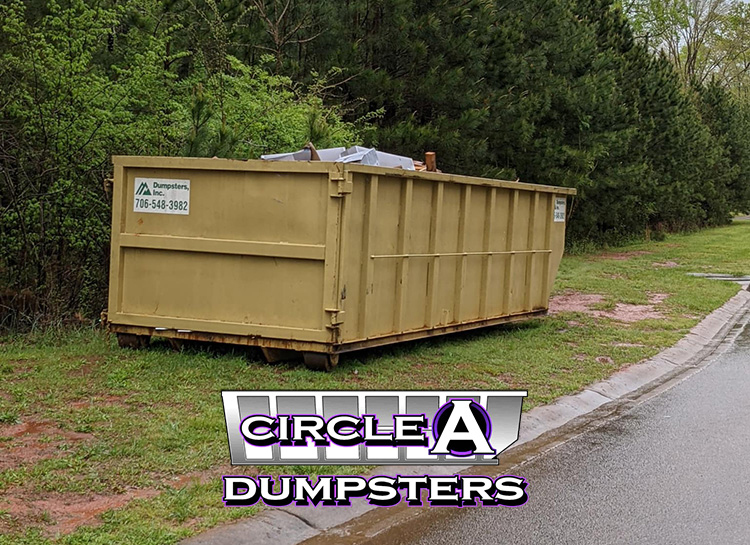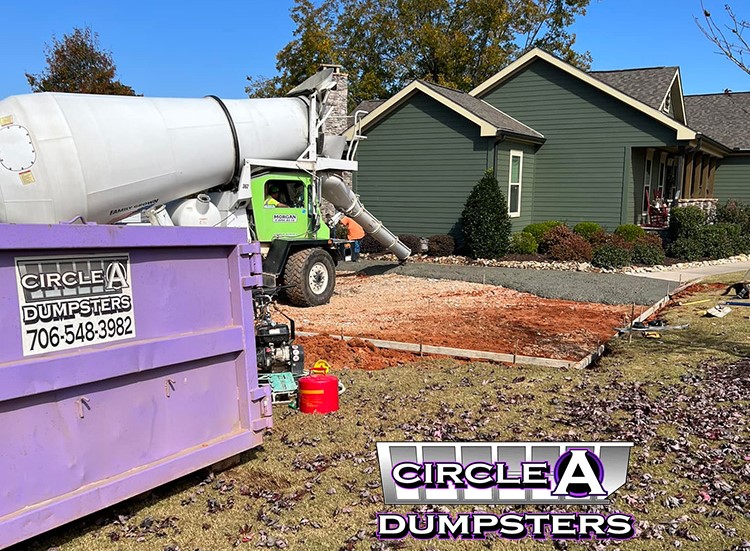 Roofing Debris Roll Off Dumpster Athens GA
Roofing debris can be hauled away in a breeze with our roll off dumpster Athens GA selections. We carry heavy-duty containers specifically designed for shingles and other roofing materials to help make your project go off without a hitch. Whether you're a homeowner working on a smaller roofing repair or a construction company replacing a roof, our roll off dumpster Athens GA options are perfect for collecting shingles, tiles, wood, and more with ease.
Demolition Roll Off Dumpster Rental Athens
Demolition projects are serious business, which is why we offer serious solutions with our roll off dumpster rental Athens. Clean up is simple and straightforward with our wide selection of construction-specific Athens roll off dumpster options. We carry containers specifically built for collecting and hauling shingles, concrete, dirt, or construction demolition debris.

Our roll off dumpster rental Athens options are designed for asphalt removal, concrete removal, driveway demolition, home renovations, house demolition, or office demolition. Make sure your demo project has the added support of our highly recommended Athens roll off dumpster rental company.
Dimensions
22 L, 8 W, 4.5 H

Included Tonnage

Additional Days
:
$25/day
Extra Weight
:
$70/ton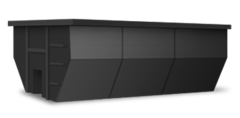 Included Tonnage

Additional Days
:
$25/day
Extra Weight
:
$70/ton

Dimensions
Included Tonnage
4 tons included
Additional Days
:
Extra Weight
:
$70. per ton for additional tonnage
We Take Just About Everything
Some examples of the junk we haul away include:
Garbage Removal

Mattress Disposal

Shingle Disposal
Construction Waste Removal

Yard Waste Removal

Trash Removal
Foreclosure Clean Outs

Furniture Removal

Brush Removal
Athens Garbage Dumpster for Commercial Use
Waste can pile up quickly in public, commercial, or office space settings. Which is where our Athens garbage dumpster rentals come in to save the day. Whether you're a business owner seeking long-term waste management solutions or just need one-time cleanup support, we're the top choice for commercial trash removal.

For practical, affordable Athens garbage dumpster options, choose the team at Circle A to help keep your business on track and waste-free. We definitely don't want the trash to pile up, so we offer flexible garbage dumpster Athens scheduling, delivery, and pick up, so you can focus on the important aspect of keeping your business clean. Get in touch with us today to learn more about your commercial dumpster roll off Athens GA options.
How to Rent a Athens Dumpster From the Best
Circle A makes booking an Athens dumpster simple and straightforward. Our goal is to make your life better, and that starts with instant and reasonable quotes with a quick roll off dumpster Athens process! Our wide selection of high-quality dumpsters makes it easy to pick out which container you need, but if you still need help there is no need to worry. Circle A Dumpsters has excellent customer service to help you rent the best Athens dumpster for your project.

The steps are simple: head to our user-friendly website, find the dumpster you want and click "book now", add it to your cart, choose your dates, and check out your dumpster rental. We offer simple and easy drop-off and pick-up procedures, and we promise to take care of your driveways and sites with careful delivery. If navigating websites just aren't for you, that's not a problem. Call us at (706) 548-3982 to rent dumpster Athens GA today.

Our roll off dumpsters can haul away just about anything, but there are some restrictions we have to follow. Some examples of junk we haul away are garbage removal, mattress disposal, shingle disposal, construction waste removal, yard waste removal, trash removal, foreclosure cleanouts, furniture removal, and brush removal. If you don't see your type of trash listed it doesn't mean you are out of luck! To verify if we can accept and haul away your waste, give our friendly team a call to learn more about our dumpster rentals Athens GA.
Athens Roll off Dumpster Sizes
Circle A Dumpsters offers various Athens roll off dumpster sizes for every type and scope of project. From residential use to commercial use, you can't go wrong with our Athens services dumpster rental sizes. What makes us unique is that we not only offer a wide variety of sizes of bins, but we also carry special styles of durable, heavy-duty containers for every type of waste. We offer various rolloff dumpster Athens GA options so you can find the perfect fit for your personal or professional needs.

We're happy to offer our community 20 and 30 yard dumpsters for a variety of purposes. These Athens GA waste dumpster size options are the perfect sized dumpsters for any project. Our 20 yard dumpster is great for those smaller and medium-scale projects. With a rental time of up to 14 days, you can guarantee your project will get done. Our 20 yard dumpsters start at $300 with two types of rentals. The first 10 yard dumpster is for concrete only while our other 10 yard is for dirt only.

Our 30 yard dumpster Athens GA offers the most variations for your projects. These also include a rental time of up to 14 days and can be used for most residential and commercial projects. Our 30 yard dumpsters vary from $300 to $500 based on the dumpster rental Athens, GA type you choose. Our 30 yard dumpsters have six types to offer. Household, construction & demolition, shingles only, dirt only, concrete only, and tree or brush only are all the options you can choose from! If you have any questions about choosing your type of Athens roll off dumpster, give us a call and we promise to help you out in the process! Choose our team of experts today and give us a call at (706) 548-3982 to get started.
FAQs for Athens Services Dumpster Rental
We understand investing in an Athens services dumpster rental comes with many questions, which is why we've compiled a list of frequently asked questions to address any concerns you might have.

1) How do I rent a dumpster?

We make renting a dumpster Athens services as quick and convenient as possible with our online booking system. Just choose the best size dumpster for your project, add it to your cart, input your drop off and pick up dates, then check out! If you have any questions about our process, prices, or scheduling, give our team a call at (706) 548-3982.

2) How much does it cost to rent a dumpster?

Depending on the scale of your project and the size container you choose, the cost for dumpster Athens GA varies. Our dumpster selections begin at $325 and include a certain amount of tonnage with up to 14 days of rental time. Additional charges like a mattress or upholstered furniture removal may accrue, but all of those specifics will be decided up front so you know exactly what the price point will be when you book.

3) What size dumpsters do you carry?

We offer 20 or 30 yard Athens services dumpster options that offer added support to a wide variety of projects ranging from residential home improvements to construction and demolition jobs. Our substantial containers are built specifically for certain types of waste, including dirt, concrete, yard debris, or shingles.

If you have any additional questions about our Athens services dumpster rental options, get in touch with us today!
Serving Clarke County and Other Areas with our Athens Dumpster Rental
We are proud to serve the residents and businesses of Clarke County and surrounding areas with our Athens dumpster rental options. We know high-quality rentals at affordable prices can be difficult to find, which is why we are dedicated to helping our customers and providing an amazing experience. We've partnered with Clarke County School District, as well as local daycares, parks, and businesses who trust us to provide reliable, affordable services to our community. We provide Athens dumpster rental options to the following zip codes: 30601, 30505, 30606, 30607.

Our service area goes beyond Clarke County as we are proud to serve the following communities with our Athens GA mini dumpster services: Athens, Danielsville, Winterville, Hull, Ila, Watkinsville, Colbert, Arnoldsville, Monroe, Comer, Crawford, and Jefferson. If your project site is beyond that radius, just let us know! Circle A Dumpsters frequently delivers units even farther out and special accommodations can usually be made for your convenience.
Why People Choose Us For Their Go-To Athens Georgia Dumpster Rental
We are more than just an Athens Georgia dumpster company, we are a family-owned and operated company that cares. We created this company in hopes of improving Oglethorpe County and surrounding areas. Our work is more than just disposing of trash, it's making our customers know their jobs are easier when they use Circle A Dumpsters. We take pride in knowing we are the #1 choice for Athens Georgia dumpster rentals and we love hearing customers who are happy with their Circle A experiences. When you're ready to rent a dumpster Athens GA from the best, give us a call. Here are just a few of the awesome testimonials from our customers: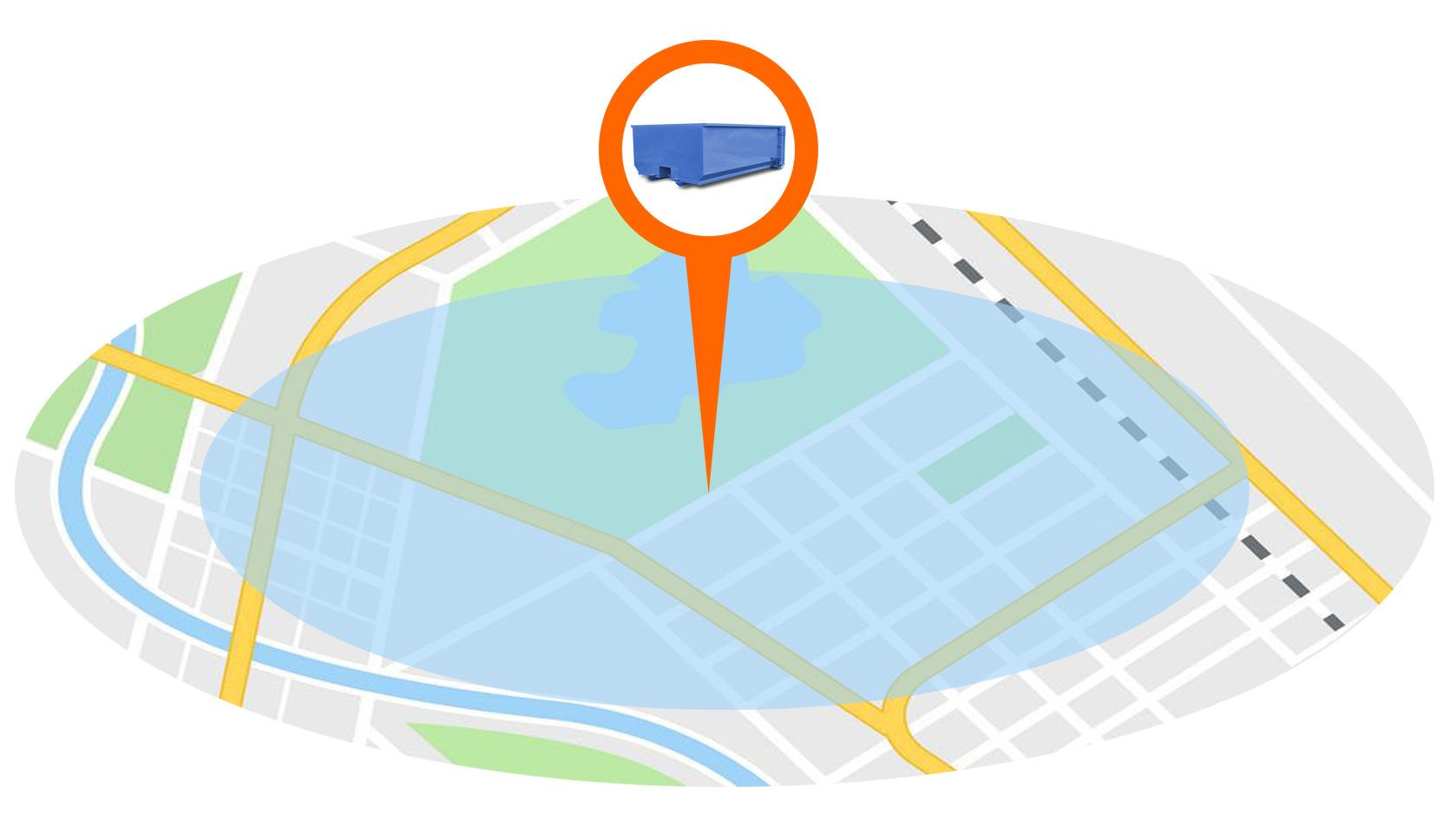 Circle A Dumpsters Rental Service Area
Circle A Dumpsters (D/B/A Dumpsters Inc.) offers 20 yard & 30 yard roll-off dumpster rentals. We service Athens, Georgia, and surrounding areas such as Hull, Colbert, Watkinsville, Bogart, Arnoldsville, Crawford, Winterville, Commerce, Jefferson, Lexington, Comer, Danielsville, Ila, Statham, Monroe, and Jefferson.
Service Area